I know knitting is not for everyone but it works for me.
My Grandmother taught me the basics of Knitting and Crochet in 1958. I decided I liked Knitting better than Crocheting however, I do use my knowledge of basic crochet when the need arises especially for casting on. I especially like trying out new knitting stitches and patterns. I added machine knitting to my basic skill set in 1978. I continue to build on my basic skills. I hope you will find items of interest to you as you browse my site.
It is common knowledge that being cold is no fun and being cold and itchy is even less fun.
In my opinion Being Warm Does Not Have To Be An Itchy Ordeal.
Clothing made with cotton yarn is warm, soft and "snuggly", usually it does not itch. It is fun to work with because it does not irritate your hands. You can enjoy the comfort of machine washable cotton yarns available in an abundance of colors. If you are allergic to dyes – you can get natural un-dyed or natural dyed yarns.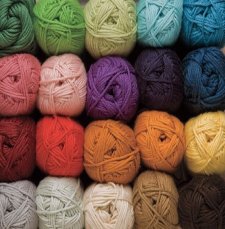 Sometimes adjusting the needle size is all that is needed to use cotton yarn with your favorite pattern.
I have successfully used Peaches & Creme®, Lion Brand®, Bernat®, Lily®, Patons® and Hobby Lobby cotton yarns for my projects.
I prefer to use wooden needles, I have a collection of Straight, Short Double Pointed and Short Circular needles in the sizes I use most US3 to US9.
I also have a set of Denise Interchangeable needles in sizes US5 to US15 in my opinion they are well worth the investment as they are so versatile.

My Knitting Machine is a Brother KX350 Home Knitter, Mid-Gauge: 6.5-7mm (circa 1987 Brother Industries Ltd, Japan). It was a great buy from Ebay, in good condition and only needed cleaning.
Early Origins of Knitting – Some people believe that the craft was developed B.C., but this is strongly disputed today. It is believed that socks and stockings were the first pieces to be produced by techniques similar to knitting as they had to be shaped in order to fit the foot.
Today it is known that these early socks were worked in Nålebinding. There are numerous Nålebinding techniques some look very similar to true knitting.
The first references to true knitting in Europe were in the early 14th century, the first knitted socks from Egypt are older, some scholars date them to the 11th century.
At these early times, the purl stitch was unknown. The first reference to a purl stitch dates from the mid-16th century.
This is an edited extract from the Wikipedia free encyclopedia's History of Knitting, the complete article can be found at: https://en.wikipedia.org/wiki/History_of_knitting#Early_origins_of_knitting
A Little About Me: I was born in the North West of England, I have lived in Florida since 1993. In addition to the practical results of knitting I have found it therapeutic in times of stress. I can be contacted via Email: linda@lindabutler.net