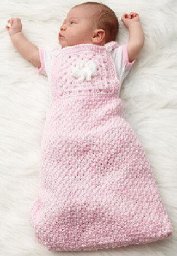 I could not find a comparable knitted version of this adorable Bernat Granny Motif Crocheted Baby Sack http://www.bernat.com/pattern.php?PID=6855
My knitted interpretation is plain to encourage a beginner to try the pattern but leave room for the creativity of an experienced knitter. I have added a buttoned opening at the bottom for diaper changing which can be omitted and and finished with a 3 needle bind off.
Measurements: All measurements are approximate to reflect individual gauge and size.
To fit: 3-6mths approx.
Bag: 24″ around x 16″ long.
Front & Back Squares: (make 2) 5″ square .
Straps: (make 2) 4″ x 1″.

Materials: Weight Category 4 Yarn, Needles size US9/UK5/5.5mm circular and/or double pointed, 7 buttons.

Gauge: 4½sts/6rows to 1″ in Stockinette Stitch
Bag Instructions: Cast on 108sts (24″).
With split rings or waste yarn mark the beginning/end of the round and the center front and back.
Work in K1, P1 Rib for 3″.
Change to Stockinette Stitch and work for 12″.
Change to in K1, P1 Rib for 6 rounds (1″).
Loosely Bind Off the Front 54 stitches.
On the remaining back stitches work 2 rows K1, P1 Rib.
Work 5 Buttonholes as follows: Rib 2, yarn over needle K2tog, (Rib 10, yarn over needle K2tog) repeat 3 times, Rib 2sts.
Work 3 rows K1, P1 Rib.
Loosely Bind Off.
Variation: To omit the buttoned opening work Stockinette Stitch for 13″, work a loose 3 needle bind off or graft with Kitchener Stitch.
Front Square: With Right Side of work facing Pick Up and Knit 16sts either side of Center Front (33sts).
Work in K1, P1 Rib for 4½" approx.
Work 2 buttonholes as follows: Rib 4, yarn over needle K2tog, Rib to last 6sts, yarn over needle K2tog, Rib 4sts. Work 2 rows K1, P1 Rib.
Loosely Bind Off.
Back Square: Work the same as Front Square omitting buttonholes.
Rib 6sts and place on a pin or holder.
Loosely Bind Off to last 6sts, Rib 6sts.

Straps: Work in K1, P1 Rib on the last 6sts for 4″ approx.
Loosely Bind Off.
Rejoin yarn to 6sts on pin and work to match first strap
Finish: Weave in and fasten off ends, sew buttons on straps and bottom.