Joel found this hat pattern on YouTube it uses half double crochet instead of double crochet and is made in a spiral instead of having to join each row. The pattern is for an adult size. However, he has modified the instructions to create the pattern for a Baby Hat. Thanks for participating in this project.
The pattern can be downloaded from this link https://knitandcrocheteverafter.com/free-pattern-workshops/basic-mens-beanie/ This YouTube link https://www.youtube.com/watch?v=U8IICUqmuFI is the demonstration of making the pattern.
I enjoy making this hat pattern because it not only takes less time than the double crochet pattern but also it is reversible. Because this pattern is worked in a spiral, and not joined to the previous row with a slip stitch the video encourages putting a stitch marker at the beginning of each row, and I recommend this also.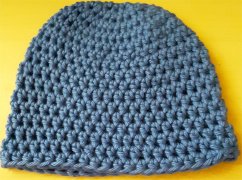 Weight: Aran/Heavy Worsted Weight Category 4
Crochet Gauge: 5 HDC and 5 rows – 2" using Hook: 6.5mm [US-K]
For a preemie baby hat follow instructions for Rows 1 – 4.
Row 1: Using a "magic circle", make 1 single crochet to hold circle in place, and then put 12 half double crochet (hdc) into the circle.
Row 2: Put 2 hdc into each stitch of Row 1. (24hdc)
Row 3: Put 2 hdc into first stitch and 1 hdc into next st.; continue this around. (48hdc)
Row 4: Put 1 hdc into each stitch of Row 3, and continue in this spiral pattern until baby hat reaches the desired length, measured from top to bottom.
For larger baby hat continue here.
Row 5: Put 2 hdc into first stitch and 1 hdc into next 2 stitches; continue this around the row and then go back to Row 4, i.e., form the remainder of the hat by putting 1 hdc into each stitch until the hat reaches the desired length. (64hdc)
Last Row: After last hdc, put 1 single crochet in next stitch and then slip stitch around this last row. This completes the hat with a nice edge and makes the hdc row appear even.