This free crochet pattern downloaded from https://freevintagecrochet.com/print/1286 was originally published in Knit and Crochet.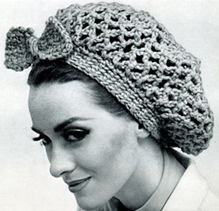 It was made with Aunt Lydia's Heavy Rug Yarn, this yarn has since been discontinued a suggested substitute is Caron Craft & Rug Yarn, both are a bulky category 5 yarn with a gauge of 5sc and 3 rows per 1″, suggested hook size J.
My Knit Version of the Fish Net Snood is worked in the round, sized to fit an Adult. Finished measurements: 9½" from cast on to bind off. Band circumference 20", adjustable with the elastic inside the casing. My Finished Measurements: Net 8", Band and iCord 1¼".
Materials: worsted weight yarn, a set of dpn's and a 16″ circular needle sizes US8/5mm & US6/4mm, stitch markers. A Crochet Hook Size H8 (5mm) optional to cast on.
Gauge: 4½sts/6rnds = 1 inch working on US8/5mm in Mesh Stitch. 4sts/7rnds = 1 inch working on US6/4mm in garter st. Use different sized needles if needed to obtain the desired gauge.
Crown Increases: With smaller size US6/4mm needles cast on 6sts and divide between 3 dpn's. Join to work in the round, mark the beginning/end of round.
Rounds 1, 3, 5 & 7: *Kf&b (12, 24, 48 & 96sts). Round 2 and all subsequent even-numbered rows: knit.
Simple but oh so Cute Mesh Stitch (lace 5) www.knitca.com/lace5.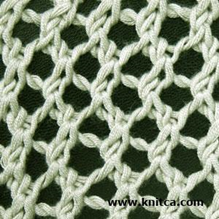 Here is a simple yet cute mesh pattern worked over an even number of stitches. This pattern is easy to knit and remember, so it can be knit on the go.
Abbreviations: yo=yarn over, K2tog=knit 2 stitches together through front loop, Rs=right side, Ws=wrong side, S1p/w=Slip 1 stitch as if to purl.
Change to larger size US8/5mm circular needle to work Mesh Stitch.
Rnd 1 (Rs): *yo, k2tog*, repeat from * to * to end.
Rnds 2 and 4 (Ws): knit to end.
Rnd 3 (Rs): *k2tog, yo*, repeat from * to * to end.
Repeat rows 1-4 (approx. ¾") until work measures 8" from beginning, adjust length here longer will create more "slouch" or make room for longer/thicker hair. End after a pattern Round 2 or 4.
Band: Reverse the direction of your work and change to needle size US6/4mm and Knit every round for 1″ (7 rounds) this will give a garter stitch effect on the right side and stockinette stitch on the wrong side. Reverse the direction of your work again and knit a 3 stitch iCord, weave elastic into the iCord (1¼"). Bind off.
Finishing: weave in ends.