A friend asked "Could you make a Christening Shawl?"
I hesitated, it would be quite a big project but I started looking at patterns and found this beautiful shawl with an amazing back story. The pattern is for the shawl Crown Princess Mary of Denmark has wrapped her newborn princes and princesses in to bring them home from the hospital.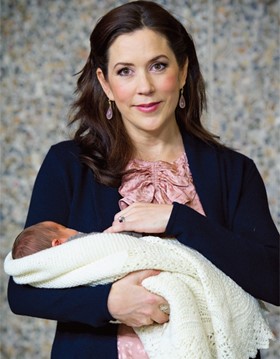 This is a traditional Shetland Hap (Shawl), the Danish pattern is likely a translation of an English pattern. The original is a lace design from the Shetland Islands in Scotland (how appropriate my friend is from Scotland), where Mary's parents originate and dates back to the 19th century. These shawls are still used both as baby wraps and as shawls for women of all ages.
The original 1950's pattern was published by Monarch Yarn as Cute n'Cozy Shawl. I decided on an updated version of it by Paton & Baldwins. I found this Feather Knitted Shawl pattern on an Australian Website
I chose to practice with a ball of Baby Bee Sweet Delight Angel (60% Acrylic & 40% Polyamide) Cat 3 DK weight yarn. The result was encouraging and my friend was delighted that I was going to make it.
For the actual project I used Snuggly Wuggly100% Acrylic Yarn, US Cat 3 DK Acrylic Yarn, in Soft Cream.
I made the center square on my LK150 Mid-gauge (6.5mm) Knitting Machine and substituted an Eyelet Pattern for the Garter Stitch Diagonal Center Square. 
Each side has a Feather and Fan Lace border for a more delicate effect I used an Alternate Feather and Fan pattern with only One Purl Row instead of the All Knit Rows version stated in the original pattern. 
Each border is finished with a lace edging.
It was a lot of work and at times I regretted starting it but the result was far better than I could have imagined. I had enough yarn to make a Boy & a Girl hat, booties and a cardigan you can check them out on Ravelry .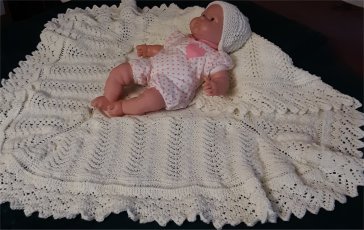 The baby who received this shawl seems happy with it.