This Snuggle Wrap pattern from Stitch Me Softly © 2011-2012 appealed to my practical side and the method of folding allows for "growing room". Please check out the original pattern at Stitch Me Softly's website. I substituted Cotton worsted weight yarn and adjusted the pattern accordingly for Size: newborn – 6 months.
| | | |
| --- | --- | --- |
| Overall Size: | 27¾" x 29½" | 28″ x 29⅔" |
| Blanket Body: | 27¾" x 21" | 28″ x 21" |
| Hood: | 13" x 8½" | 13″ x 8⅔" |
| Hood Seam: | 6½" | 6½" |
| Materials, Yarn: | Chunky | 10ozs Cotton |
| weight category: | 5 | 4 Worsted |
| crochet hook, yarn needle to sew in tails, little scissors | 3 x 100g Misti Alpaca 100% baby Alpaca, needles size US10½/6.5mm | 100% cotton yarn, needles size US7/4.5mm |
| Gauge: | 3.5sts per inch | 4sts/6rows per inch |
Two folding techniques are pictured below
Abbreviations: k – knit, p – purl, st(s) – stitch(es), rep – repeat, cont – continue, CO – cast on, BO – bind off, RS – right side, WS – wrong side.
Instructions: Cast On 97sts (112sts) this includes a 7st border each side.
Rows 1 – 6: Work in Moss st (k1, *p1, k1 rep from * to end of row).
Row 7 (RS): S1 (k1, p1) 3 times, knit to last 6sts, (p1, k1) to end.
Row 8 (WS): S1 (k1, p1) 3 times, purl to last 6sts, (p1, k1) to end.
Rep rows 7 & 8 until piece measures approx 20" in length.

Shoulders:
Next Row (RS): S1 (k1, p1) 15 times, k37 (p1, k1) 15 times.
Next Row (WS): S1, k1 (p1, k1) 15 times, p35 (k1, p1) 15 times, k1.
Rep these last 2 rows 2 more times (6 rows total of the Moss st).
Next Row (RS): BO 26sts (29sts), (k1, p1) 3 times, k34 (k40), (p1, k1) 3 times 46 (54)sts, BO last 25sts (28sts).
At this point you can either break off yarn and rejoin it, or using a crochet needle slip stitch over to your live sts.

Hood: 46sts (54sts) (13") continue in the same pattern of the 6st moss st border at each end of row, and stockinette st in between, until hood panel measures approx 8½".
Hood Seam: slip 23sts (28sts) (6½") onto a double-pointed needle, fold the panel, matching needle points. Seam using either kitchener stitch or a 3 needle bind-off. Sew in loose tails.

Fastening: Using a crochet hook, join your yarn at a shoulder corner, chain 10, rejoin with a slip stitch at the same point you started to create a loop. Break off yarn and sew in tails. Using the photo as a guide, join yarn at a point on the opposite shoulder, chain 40, break off yarn leaving a few inches of yarn to spare. Make a mini pom-pom with a scrap of a contrasting yarn, or the same yarn, and attach it securely to the long chain (I like a simple reef-knot). Feed the chain through the loop and fasten it.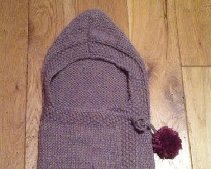 Baby Snuggle Wrap made with 100% cotton yarn, can be cool machine washed and dryed.
I made a Baby Snuggle Wrap for my Great Grand Daughter in 2017 with 100% cotton yarn, the main color is Sugar'n Cream Crown Jewels Ombre, the contrast color is Bernat Harvest Home Aubergine (Purple). Pom Pom's were requested so I made a buttonhole fastening and added a decorative Pom Pom.