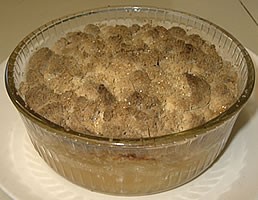 Ingredients:Full 4-6 (Half 2-3) servings
Filling:
1lb Gala apples (any fruit can be used) (Half ½ lb)
(add sugar to taste depending on fruit used)
4 tablespoons water (Half 2 tablespoons)
Optional seasonings:
½ teaspoon cinnamon (Half ¼ teaspoon)
½ teaspoon nutmeg (Half ¼ teaspoon)
3 teaspoon grated lemon peel (Half 1½ teaspoon)
Method: Peel and thinly slice apples into a medium sized casserole dish.
Mix sugar, sprinkle any optional seasonings over apples.
Add 2 tablespoons water.
Cover and microwave for 4 minutes or until the apples are starting to soften, cook longer if you prefer your apples to be very soft but remember they will finish cooking after the topping has been added.
Topping:
6ozs/1½ cups Flour (Half 3ozs/¾ cup)
3ozs/6 tablespoons butter softened not melted (Half 1½ozs/3 tablespoons)
6ozs/¾ cup White sugar (Half 3ozs, ¼ cup+2 tablespoons)
My Variation: I Reduce the amount of white sugar stirred into the crumble/cobbler topping to the following amounts:
5ozs/½ cup+2tblsps, White sugar (Half 2½ozs, ¼ cup+1 tblsp)
and add 1oz (6 tablespoons) Brown sugar (½oz, 3 tablespoons).
This gives a caramel flavor and adds a little color to the microwave version
Method: Rub the butter into the flour until the mixture looks like fine breadcrumbs. Stir in the sugar.
Place crumble over prepared apples. Sprinkle remaining sugar on top.
Bake: Preheat oven to 400ºF 4-6 serving size: for 40 to 50 minutes. 2-3 serving size: for 20 to 25 minutes
Microwave on High (700W) uncovered: 4-6 serving size: for 8-10 minutes, 2-3 serving size: for 6-8 minutes or until the crumble is cooked in the center. Stand for 3-5 minutes before serving to finish cooking